120 Gallon Solar Thermal Tank

Solar Hot Tub kits are our founder's favorite solar system. if you have sunshine this will make your hot tub a HOT tub!.

Solar Fire Drum by ABC Solar

Solar Fire Drum

According to the PHOS-CHeK Home Defense Brochure, the active fire retardant in PHOS-CHeK changes the flammability of wood, plants, and other fuels by altering their combustibility when exposed to fire.

When the heat from fire reacts with fuels coated in PHOS-CHeK, water and carbon graphite are formed instead. The water boils off, cooling the fire. And the carbon graphite forms a protective, non-flammable barrier around the fuels, effectively preventing a wildfire from moving closer to your home.

Wood and other cellulose materials that have been treated with PHOS-CHeK retain their fire-retardant properties until the retardant has been washed away or rubbed off.

Since 2000 ABC Solar has been designing, testing and selling solar applications. We try a variety of combinations and when we get it right we then make available. Basically we break things first, then fix, change and cajole a new solar application to life.

The Solar Fire Drum is the most exciting project in 18 years and it might indeed help prevent fire at your property. No water pressure or power during a fire emergency makes the solar powered battery operated solar fire drum a true resource.

Custom Solar Fire Pool and Hot Tub Systems available. We can pump 100 GPM 80 feet in the air AND OFF-THE-GRID.

The Solar Fire Drum Kit includes:

12v Demand Pump

3x solenoid water valves

Group 24 Battery Box

Wifi Pump/Valve Relay

Environmental Sensors

Web Dashboard and Remote Control

12v 5ah sealed battery

80w Solar PV Panel

Charge Controller

50 Gallon Food Quality Container

50 Gallons of PHOS-CHeK Pre-Mix Fire Retardant

Custom Systems are available. Consider:

Swimming Pool Conversion to Off Grid Fire Water Pumping System

Hot Tub as water source for the Solar Fire Drum Fish Pond as water source for the Solar Fire Drum Solar Hot Water Storage Tank as the water source for the Solar Fire Drum.

ABC Solar has been solar pumping water from day 1 of our founding 18 years ago. Our deep experience with solar DC water pumps is a key benefit in the design of the solar fire drum kit and systems. Our 12v demand pump can run dry and move water at sprinkler speed 40 feet up a tree. Call us today to learn more.

USES of the SOLAR FIRE DRUM

PHOS-CHeK LC95W Fire Retardant

Remote Control Sprinkler System

Remote Sensors with Central Control

Humidity, Temperature, Volitile Gases, Motion, Sound, Salinity, Voltage & ...

Operating Principles:

The Solar Fire Drum is designed to spray a long-term fire retardant mixture on the trees and perimeter of your property. The battery powers a 12v 60psi demand pump that can send the mixture 40' feet up a tree. The Solar Fire Drum holds 55 gallons of water the two 5 gallon PHOS-CHeK liquid concentrate. It will run for 1 hour of continuous pumping, longer with more liquids. ANYWHERE and off-the-grid.

The Solar Fire Drum has an integrated 55 watt solar electric PV panel and a waterproof charge controller to keep the battery float charged.

Additional drums of water and concentrate can be added in series for longer coverage.

ABC Solar has long experience with solar water pumping and can size from 1 gallon per minute to hundreds of gallons per minute at tall heights.

1x 55 Gallon Drum of PHOS-CHeK Liquid Concentrate to your hot tub for 355 gallons of fire retardant material. The hot tub pump is configured to run from batteries and valved to run large volume and more sprinklers at your property.

1x 260 Gallon Tote of PHOS-CHeK Liquid Concentrate to your swimming pool for over 10,000 gallons of fire retardant to spay on your property with battery water pumps that are recharged with solar.

The PHOS-CHeK and water mixture will stay on the plants until it rains or you rinse it off. It then becomes fertilizer and does not harm your yard. I like that part a bunch and it is environmentally friendly.

All Rights Reserved 2018.
HOT TUB FIRE MACHINE
Making the Hot Tub a NEW Appliance
Save a Tree and You Might Save Your Home.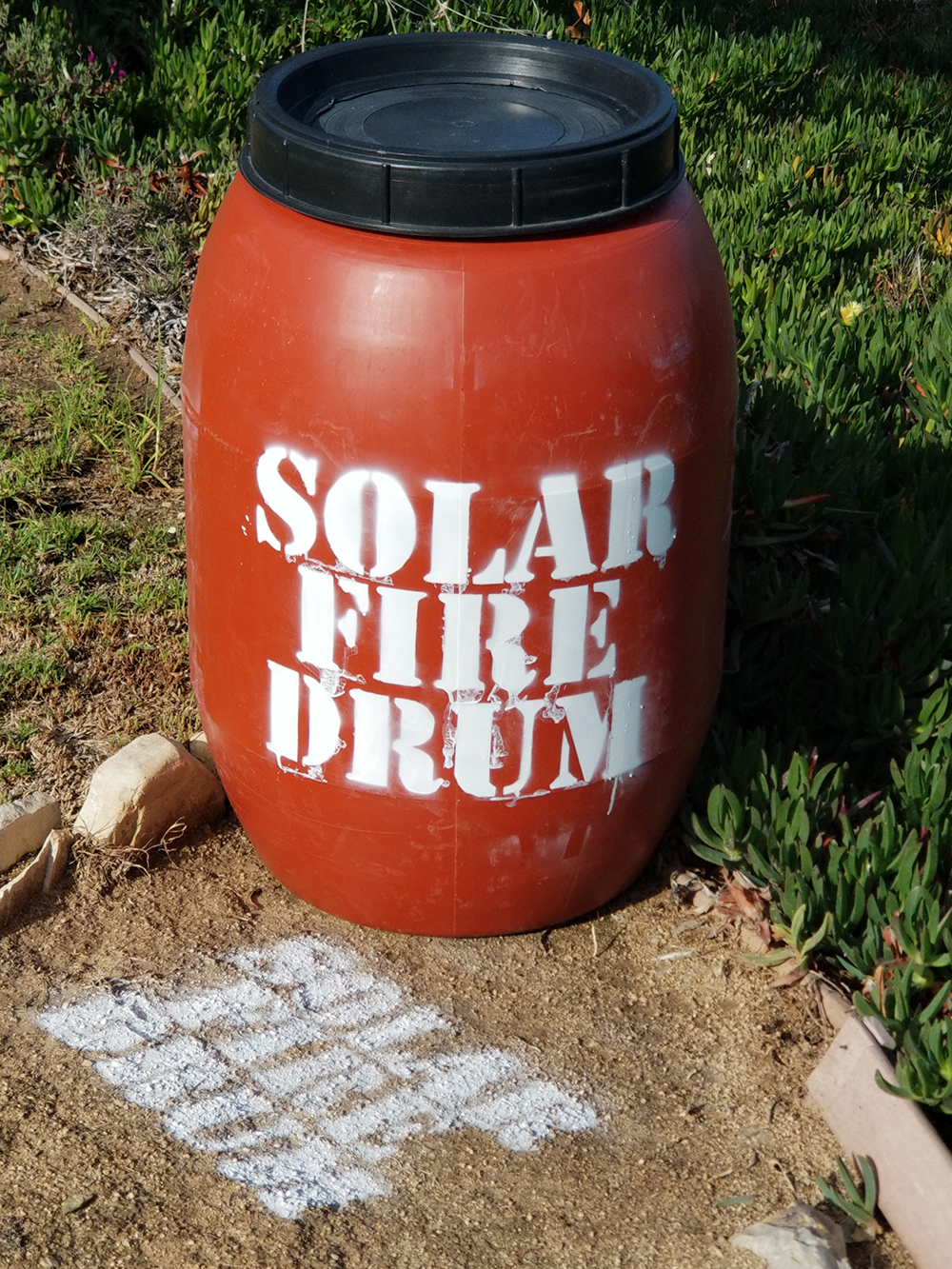 That is the basic principle behind the Solar Hot Tub Fire Machine. Our solar powered battery operated off grid outdoor fire sprinkler system features Internet of Things (IoT) Technology to allow remote control of each Hot Tub Fire Machine.
For Example, Five Minute Reporting:
66.2f Temperatrure - 25-SEP-2019 06:47
12.438953 Voltage - 25-SEP-2019 06:47
The web based controls turn on and off the sprinkler zones and also the remix valve when Phos-Chek Fire Retardent is used. A key design feature is marine quality manual switches to allow human operation.
Cellular chips also available with a monthly fee. Cellular is one step more reliable than wifi during power blackouts.
ABC Solar is working on adding Satellite communication to offer even more robust and ready to use devices during power blackouts and fires. Your investment into an ABC Solar Hot Tub Fire Machine helps protect your property and you also support our Research & Develpment efforts.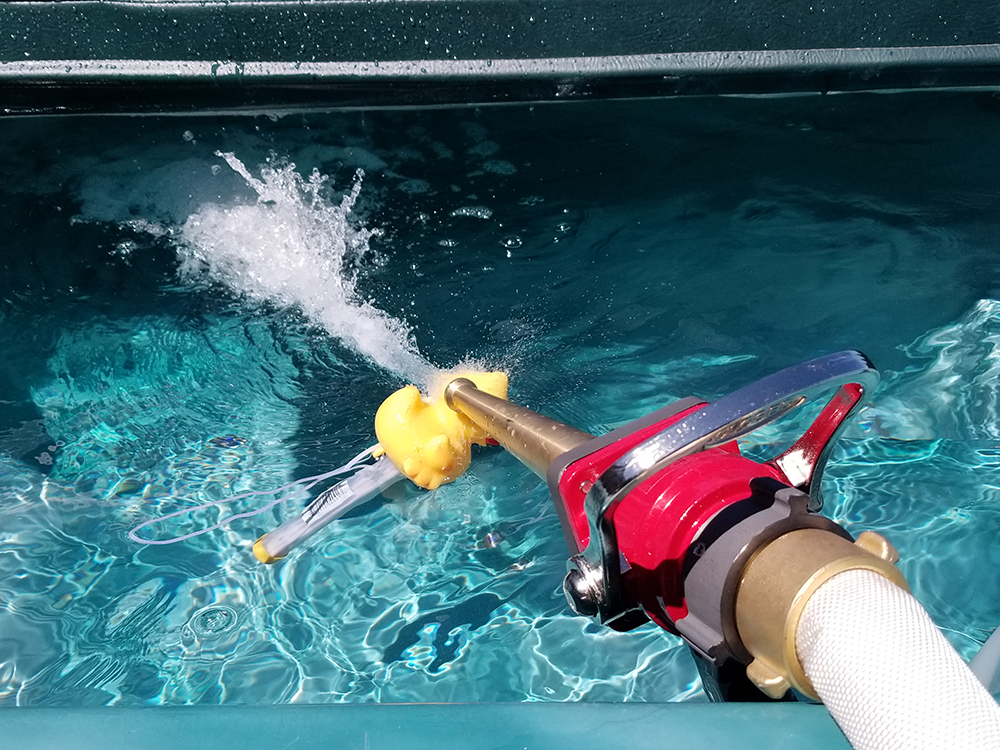 | | | |
| --- | --- | --- |
| HTFM20 | Hot Tub Fire Machine Wifi Web Remote w/ sensors | Call |
| HTFM40 | Hot Tub Fire Machine 2x 20 Gallon Pressure Tank | Call |
| HTFM120 | 1x 120 Gallon Pressure Tank with solar pump | Call |
| HTFM240 | 2x 120 Gallon Pressure Tank with solar pumps | Call |
| HTFM360 | 3x 120 Gallon Pressure Tank with solar pumps | Call |
| HTFM480 | 4x 120 Gallon Pressure Tank with solar pumps | Call |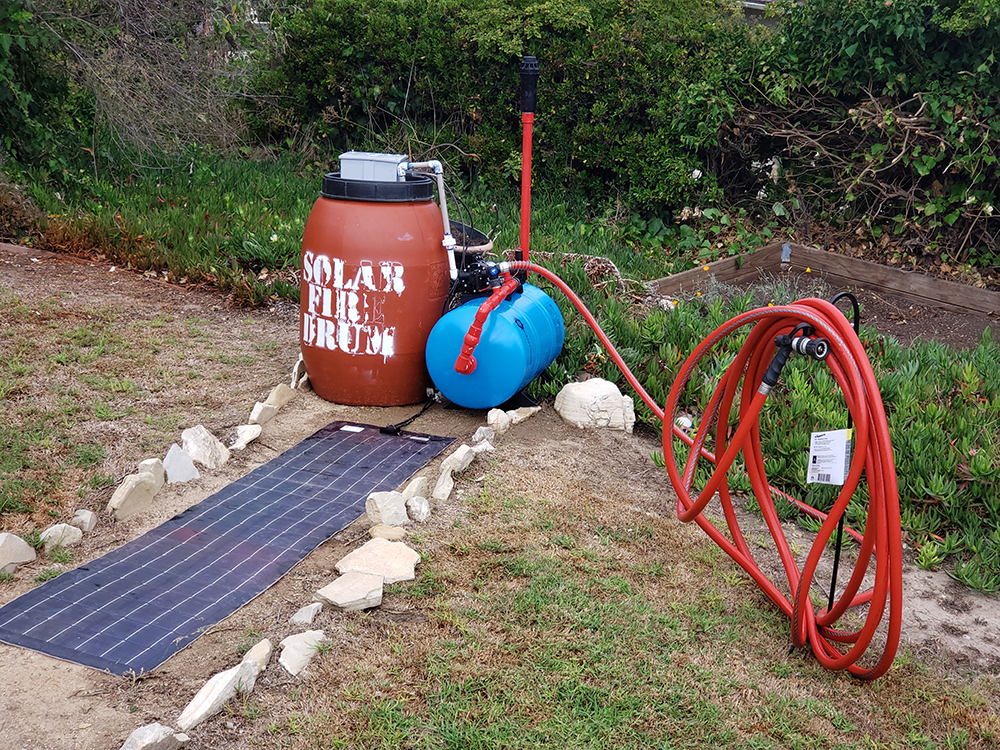 DO IT YOURSELF
-- OR --
HAVE ABC SOLAR DO IT!

---
SOLAR HOT TUB HEATING AND FILTRATION KIT
SUPER Solar Hot Tub Kit
120 Gallon Solar Storage Tank
Solar Heating System with Glycol
4-port Heat Exchanger
Hot Tub Pump with Thermostats
UV Sterilizer
Remote Web Reporting

Call! We Design Custom for you.

HOW IT WORKS
The fuel from the sun is being used to do TWO primary jobs with the Amazing Solar Hot Tub Kit.
Power a 12v circulation pump (solar electric)
Heat the water (solar thermal)
Basically we take water from your hot tub to the 12v circulation pump. This pump operates at 3 to 5 GPM (gallons per minute) depending on the size of the solar electric panel (bigger panel, more flow) and how much sun is hitting said panel. The pump we use can move water as high as 60 feet of head. It requires more power to go higher. Our 68 watt solar electric panel does really well up to 20 feet of head.
The Solar Thermal panel(s) now come into play. The water from the circulation pump is pushed thru the solar thermal panels and this is where we gain the heat in the water. The Amazing Solar Hot Tub Kit features a 4' x 20' solar thermal panel. This 80 sq. ft. panel is rated at 80,000 btu in heating power. Once the water is pushed thru the Solar Thermal Panels it is returned to your hot tub. At peak sun we find up to a 30 degree F increase in tempature from the hot tub source to the return solar heated water.
Sound simple so far? The Amazing Solar Hot Tub Kit can be incorporated into the plumbing of existing hot tubs, but we recommend keeping the systems seperate. This allows you to be very flexible on how you use the Solar Hot Tub kit.
Since we have the water flowing at 3 to 5 GPM we were inspired by a customer to add inline filtration. We added an inline cartridge small pool filter. This allowed the Amazing Solar Hot Tub Kit to do three jobs...pump, filter, and heat.
STERILIZATION!
Some great things came from the tragedy of Hurricane Katrina. During the storm and its aftermath we came to consider ways to sterilize the water with UV Canisters. We found by adding an inline UV sterilizer to our Amazing Solar Hot Tub Kit we could make the hot tub crystal clear and can almost qualify it as safe to drink! Now our Amazing Solar Hot Tub Kit is doing four jobs:
Pump
Filter
Heat
Sterilize

The Water from The Amazing UV Solar Hot Tub DELUX Kit is silky and has no smell. The water is amazing.
(1) Water enters the purifier and flows into the annular space between the quartz sleeve and the chamber wall.
(2) Within the chamber, water is exposed to intense germicidal ultraviolet radiation.
(3) Transformer with LED indicator light provides visual indication of germicidal lamp operation.
(4) Water leaving the purifier is instantly ready for use.

Now, the inline cartridge filter and the UV Sterilizer are optional items. We strongly suggest them, but do not require.
---
SOLAR THERMAL FARMING!
Using your solar heated hot tub to heat soil for off-season farming.
Meet the ABC Solar Pump Bucket! A self-contained solar operated battery powered soil to hot tub heat exchange system.
See the New ABC Solar Catalog


Solar Bible 2020: Navigating the Man

---
8 years ago

14 Years ago!
Don't Be a Solar Chicken


---
Sticks and Stones May Build Your Homes
But Solar Will Never Hurt You!*
* Solar makes heat and electricity so professional installation is key to safety. Please follow all instructions!